Shoes are an element
 that should be considered very well when one marries on the beach since it can present some problems if chosen wrong, so we will give you some recommendations so that you can choose the ones that best suit you.
To begin with, when getting married on the beach, wearing high heels is not the most recommended. Especially high heels with a very thin tip the heel can sag and cause you to trip. Also, remember to pick ones that are made from fresh materials and won't hurt you when you walk.
Here are some types of shoe ideal for your beach wedding:
Flat sandals
This type of sandal can cover many types of styles, from vintage to classic, due to the decoration with flowers, matte and shiny rhinestones that give a classic and sophisticated look to the bride, on the other hand, sandals that have colored rhinestones and fringes this can give a more rustic and bohemian look, ideal if that's the theme of your wedding.
Crab sandal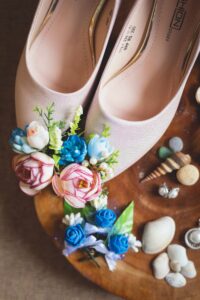 Ideal for a casual celebration, when you choose this design you should play with the colors to find out which one suits your wedding style.
The brown and camel colors give an air of a rustic wedding, the nude tones a vintage look and the turquoise a bohemian touch.
Barefoot sandals
It is not a type of shoe, but rather a trend of putting stones on the feet and walking barefoot, this type of sandals are ideal for brides who like to feel the sand on their feet, giving a more romantic look. You only have to take into account the time you are getting married, because of the hot sand that could burn your feet if there is full sun.

Beach dancers
They give a much more classic, vintage, and romantic look, with a spontaneous personality. Normally this type of slippers is made with lace and decorated with a bow or rhinestones.
Platform heels
High heel shoes? Even though they are not the best option, there must always be an exception to the rule that is why there are s
hoes with a running heel, which will allow the bride to walk on the beach without having any problem and without actually tripping. But remember to always pair of flat shoes, so you can dance the night away without getting hurt.
Gladiator sandals
They are ideal, in case you have chosen a short dress since it will give it a slightly more rustic and bohemian air. These types of sandals are a bit more modern, giving a much more flirtatious look.
What Shoes would you wear?